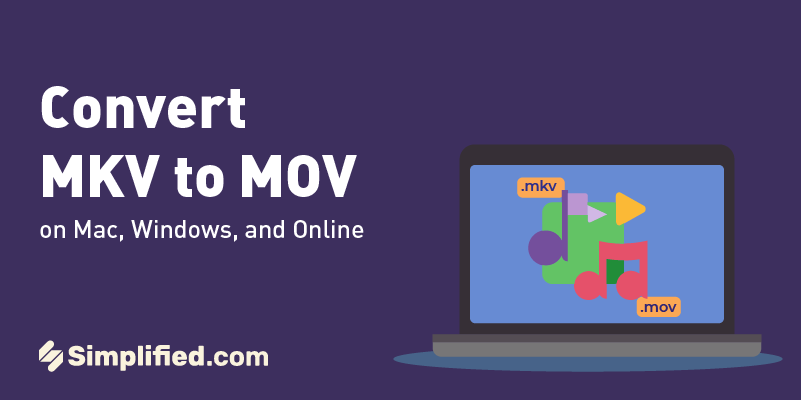 Are you tired of not being able to play your favorite videos on your device because they're in the MKV format? Well, worry no more because in 2023, converting MKV to MOV has never been easier. And the best tool for the job? Simplified!
But why is it so important to convert your MKV files to MOV? Well, for starters, MKV files aren't always compatible with all devices, making them difficult to play. MOV, on the other hand, is a more universal format that can be played on a wider range of devices, including Apple devices like iPhones and iPads. And with more and more people using multiple devices to consume media, it's essential to have your videos in a format that can be played on all of them.
That's where Simplified comes in! With our user-friendly interface and easy-to-follow instructions, Simplified is the perfect tool for content creators. It is the best tool in 2023 for converting MKV to MOV on Mac, Windows, and even online.
So, whether you're looking to watch your favorite videos on the go or simply want to make sure they're compatible with all your devices, Simplified is the perfect tool for converting MKV to MOV in 2023.
How to Convert MKV to MOV on Any Device with Simplified?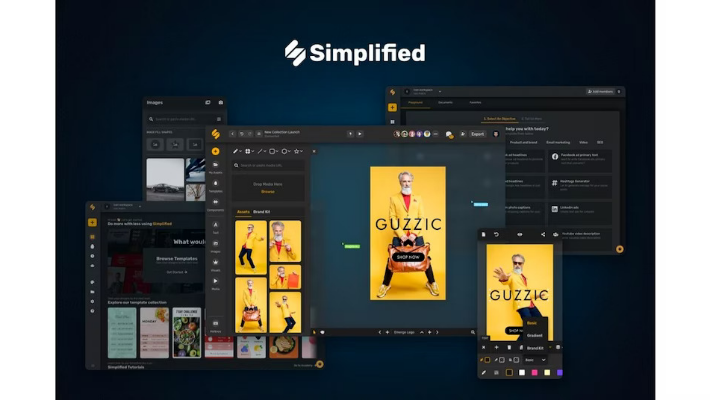 Simplified is a top-of-the-line video editing tool that stands out from the rest in 2023. With its user-friendly interface and powerful editing capabilities, it has become the go-to tool for both novice and professional video editors.
Simplified offers a wide range of features to help you create stunning videos, including video trimming, merging, splitting, and cropping, as well as the ability to add text, music, and special effects. Its intuitive drag-and-drop interface makes it easy to use, even for beginners, while its advanced features allow for more complex editing tasks.
In addition, Simplified also offers a powerful video conversion tool that can convert videos to and from a wide range of formats, including popular ones like MP4, MOV, AVI, and more. With lightning-fast conversion speeds, Simplified makes it easy to convert your videos to the format you need for your project.
Related: How To Convert MP4 To AVI In 3 Easy Steps [+Free MP4 to AVI Converter Tool]
3-Step Conversion Process from MKV to MOV
Converting MKV to MOV with Simplified is a simple and quick process. In just four simple steps, you can convert your MKV files to MOV format and play them on any device. Here's how to do it:
Step 1: Sign up on Simplified
The first step is to sign up with Simplified on your Windows or Mac system. All you have to do is go to Simplified and create an account with your email ID. Once you sign up, the Free Forever Plan is automatically activated. You will get access to tons of tools. You can get everything from an AI writer to graphics design to video conversion!
Step 2: Go to the Video Converter
You can find the video converter by going to the Products tab. You can choose the option "Convert MOV to MP4", which is the most popularly used video conversion. Now, you will be directed to the video converter.
Click on the "Browse" button and select the MKV file you want to convert. You can also drag and drop the file directly into the Simplified window.
Step 3: Choose MOV as the Output Format
After you've added the MKV file, select "MOV" as the output format from the drop-down menu located at the bottom of the window. The conversion time will depend on the size of the file and the processing power of your computer. Once the conversion is complete, you can find the MOV file in the location you specified.
Once your file is converted, you will get the option to "Download Now." Click on it and specify your file location to save it on your device.
And that's it! Simplified allows you to convert MKV files to MOV format in just three simple steps. It makes the process of video conversion quick and effortless, allowing you to focus on creating amazing videos without worrying about the technical details. Check out the video below to get more clarity on the video conversion process.
Simplified: The Ultimate Solution for Video Editing in 2023
In conclusion, converting MKV to MOV can be a daunting task, especially if you're not familiar with the technical aspects of video conversion. However, with the help of the right tools, you can easily convert your MKV files to MOV format on any device.
Simplified stands out as the best video editing tool that offers a comprehensive set of features to make video conversion quick and effortless. By following the simple, three-step process outlined in this post, you can easily convert your MKV files to MOV format using Simplified. Whether you're looking to play your videos on a different device or share them with others, Simplified makes the process of video conversion easy and straightforward.
The best part is that the video converter is absolutely free to use! And you can also get access to tons of exciting features for creating and publishing content online. Try The Simplified Video Converter For Free Today!