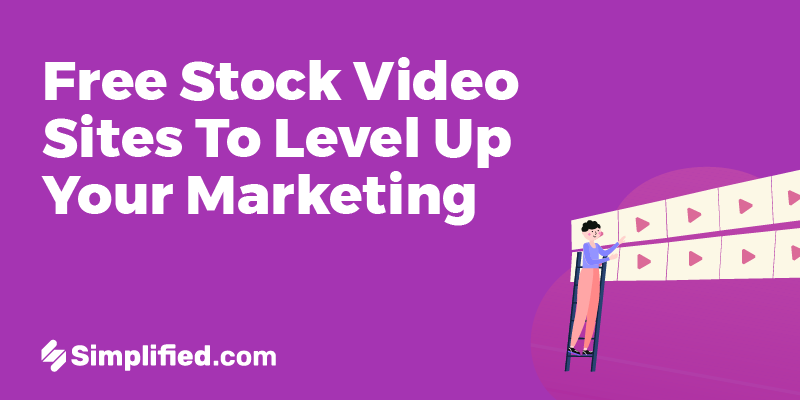 When it comes to promoting your brand and connecting with your target audience, using stock videos in your video content is a total game-changer. Why should you use stock videos? Well, the answer is simple: they can make your video content stand out, captivate viewers, and communicate your message effectively.
According to HubSpot's Video Marketing survey, 91% of businesses use video as a marketing tool. While another marketing research suggests that video content is the leading source of information for over 66% of people surfing the internet.
Well, this is noteworthy because using video in marketing can be highly engaging and better capture your audience's attention effectively than images and text would. Where it gets more interesting is that you can use video content to display your brand personality and value, making it more relatable to your target market.
Leveraging video for marketing and content generation can also significantly boost your brand's search engine rankings, including popular platforms like Google. Notably, In the past, digital creators like you often face the challenge of producing high-quality content because it requires a huge financial commitment.
However, In recent times, there are numerous free stock video websites available, enabling marketers to engage their audience at a less financial cost. Consequently, In this blog post, we have handpicked the top 9 stock video sites that can help you transform your video marketing objectives.
So, let's get started.
9 Free Stock Video Websites To Level Up Your Marketing
Discover the top 9 free stock video sites every brand marketer needs to know for creating engaging and converting marketing content.
1. Simplified
Do you want to create engaging videos, and you're wondering where to start? Simplified is a platform that hosts a gallery of unlimited free stock videos and images that can get you started. With Simplified, you can create and publish videos in minutes with premium templates, social media integration, and real-time collaboration.
The tool will grant you access to high-quality copyright-free videos completely free. In addition, the searchable catalog will allow you to find videos relevant to your objectives and preferences.
Here are some of the top features and benefits of using Simplified free stock videos:
Hundreds of premium, customizable templates to create unique, on-brand videos.
Access to watermark-free stock videos.
Animate elements for more engaging videos.
Convert videos to a preferable format using a Simplified video converter 
Simplified has an AI writer for generating clickable content for video titles and descriptions.
Video trimmers, filters, icons, and unlimited stock images and videos.
Schedule posts with the content calendar or publish directly from the app.
Customize the size of your video lengths for all social media platforms.
Easy collaboration with teammates for instant feedback.
Free forever plan!
The aim of all these features is to make your marketing content more visually appealing, persuasive, and converting. Likewise, if you looking to explore Simplified for more capabilities and features, the basic plan for the tool starts at $24/month.
Related: Top AI Video Generators in 2023
2. Mixkit
Mixkit is a curated gallery of high-quality free stock videos and animation. The platform was created by some of the world's most talented digital creators, with all content licensed for free. With the tool, you can have access to different categories and styles of stock videos relevant to your brand or industry. Additionally, Mixkit requires no sign-up, no watermarks, and no attributions neede