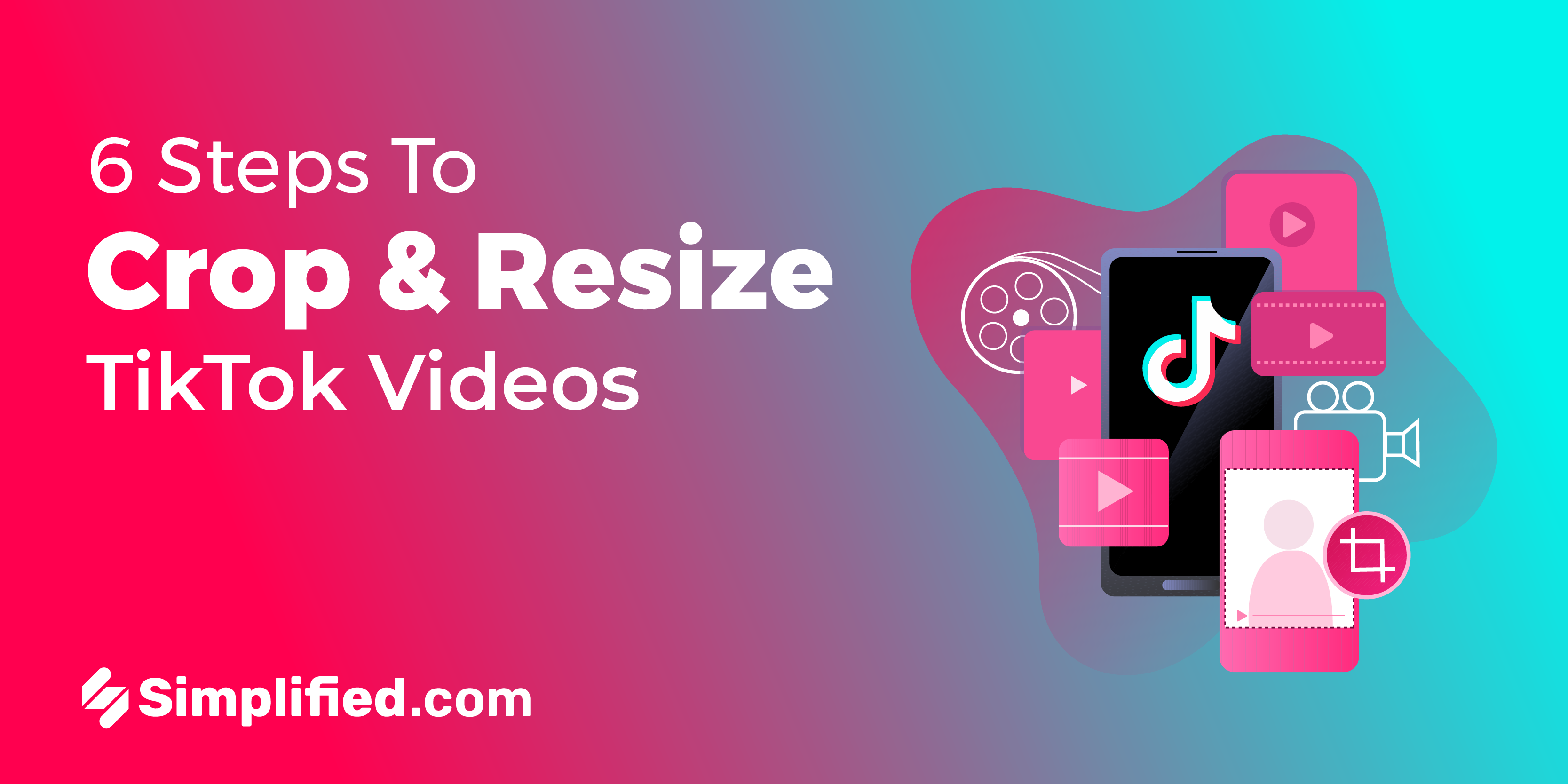 Are you looking to make your TikTok videos stand out and increase your chances of going viral? One of the ways to do this is by ensuring that your videos are properly cropped and resized to fit the platform's format.
First, it's important to understand the video size and format guidelines for TikTok. TikTok videos are recommended to be in MP4 format with a frame rate of 30 fps. To fit a mobile screen perfectly, they should also be in a 9:16 (vertical) or 16:9 (horizontal) resolution. By following these guidelines, you can increase your chances of getting your videos seen by a wider audience.
In this blog post, we'll be sharing a step-by-step guide on how to quickly and easily crop and resize your videos for TikTok using Simplified's video editing tool.
Simplified – A free Tool For All Your Marketing Needs
Simplified is a powerful online video editing tool. It is also equipped with a library of easy-to-use templates, scheduling tools, and AI-powered text and image generator to help you create and post high-quality content that resonates with your audience.
Using Simplified's library of templates, you can make more engaging videos and increase your chances of going viral. You can use these templates to tweak and create your own videos without worrying about creating them from scratch ! You can even edit, crop, and resize your videos on the go with Simplified's Android and iOS apps!
How to Crop a TikTok Video on Simplified
Step 1: Log in to Simplified
To start things off, log in to Simplified. If you don't have an account, you can get started for free.
Use the "free forever" plan, perfect for beginners to see results instantly ! Sign up here.
Step 2: Open the Video Editor
You can immediately get started on a video you want to resize by going to the video editor. You could also explore TikTok templates to come up with a new engaging video! Click on "Create TikTok" below to go straight to the video editing app, or "Explore Templates" to go to Simplified's template library.
Step 3: Import Media
On the top left corner of your video editor, you will find the "My Assets" tab, where you can drag & drop or simply locate the video asset that you want to crop or resize. You can even browse Simplified's media library to find more free assets to use in your video. You can even generate original AI art to go with the theme of your video, the on-the-fly !
Step 4: Set the TikTok Template
If you're making the video from scratch, go to the artboard settings.
Select the "Resize" option, and select the TikTok template.
This will give you a blank canvas that is in a resolution of 1080 x 1920 pixels.
Step 5: Crop or Resize your Video
Now, depending on your provided video, you can drag and resize it to fit the TikTok template canvas. If it exceeds the boundaries of the canvas, you can zoom and crop out the parts that don't belong to get a perfect, screen-filling TikTok video . Bonus Tip: Add cool transitions, texts, emojis, animations, and much more to make your TikTok even more interesting!
Step 6: Export your Video
Once you're happy with the final video, you can now export it in high quality to post it at your convenience. You can even use Simplified to post directly from your TikTok account or schedule it for later ! Just click on "Export" in the top-right corner, and then click on "Download now."
One of the best features at Simplified is its curated template library, perfect for creating viral TikToks without worrying about starting from scratch. By tweaking the templates according to your unique needs, you can have a high-performing TikTok video in a matter of minutes ! Here are a few examples.
Related: Explore the 9 Best Image Resizer Tools for All Your Digital Needs
"Chocolate Chip Cookies" Template
Looking to create a quick recipe video? This template is perfect!
"New Arrivals" Template
This template is ideal for showcasing new arrivals in your apparel catalog.
"Business Ideas During Christmas" Template
If you're an influencer helping people with business tips, make sure to check out this TikTok template!
Using Simplified Will Help You Save Time !
By following these simple steps and best practices, you can quickly and easily crop and resize your videos for TikTok and increase your chances of getting your videos seen by a wider audience. With Simplified's easy-to-use templates and scheduling tools, creating and posting high-quality content that resonates with your audience has never been easier.
If you're looking to take your TikTok game to the next level, and see the difference it can make ! Don't forget to check out other Simplified blogs to learn more about video editing and increasing engagement on other social media platforms.