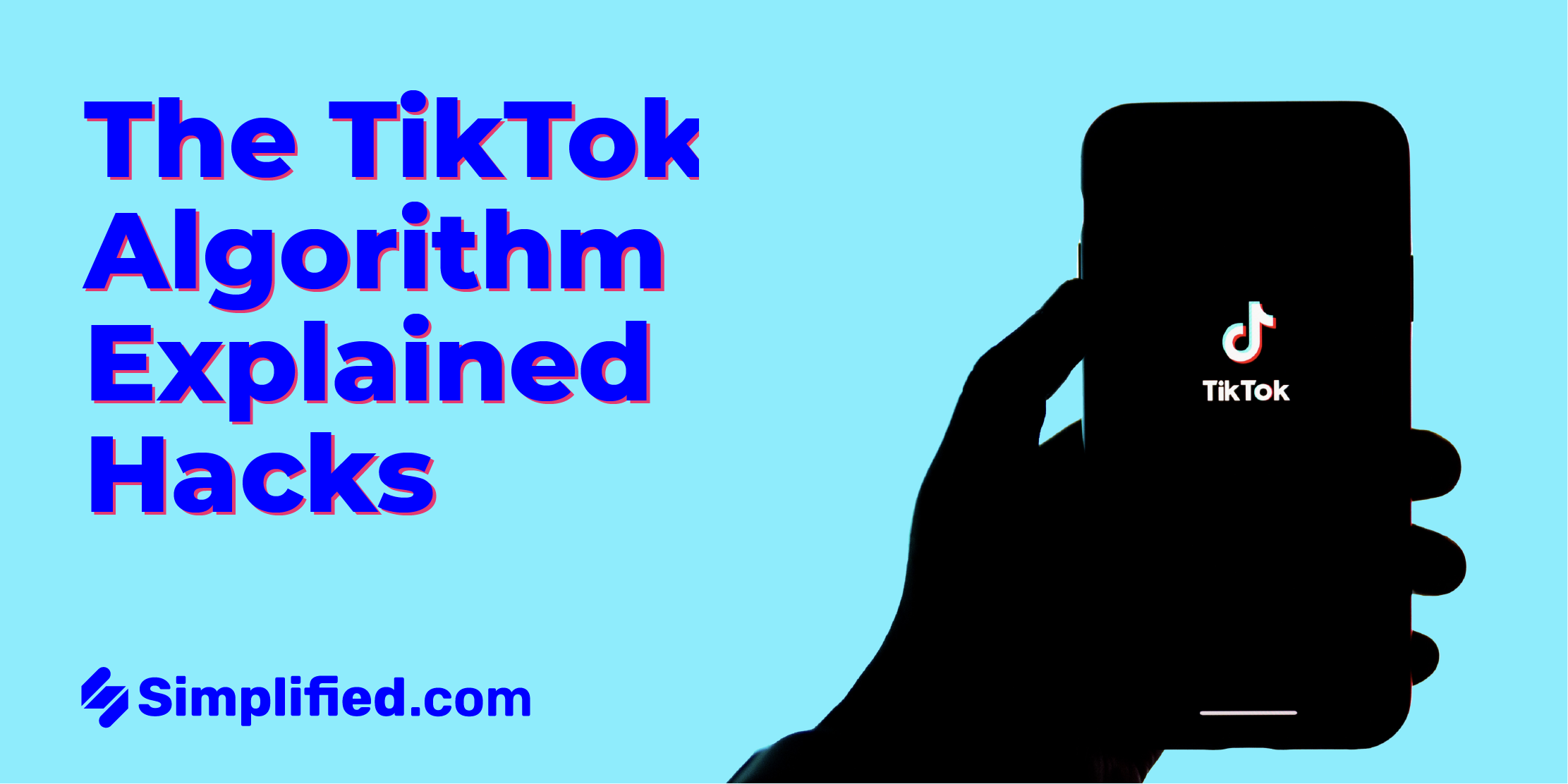 At first glance, TikTok might seem like a simple social media platform where people make content for entertainment. However, the business opportunities that video marketing and TikTok provide are endless. With over 1 billion active monthly users, TikTok has become the go-to place for brands to grow their business branding. But to maximize its popularity, you have to understand the TikTok algorithm.
So, if you're a business owner looking to grow your business through TikTok, hacking the TikTok algorithm is the way to go. And in this blog, we'll tell you all about the TikTok algorithm and how it works to get trending videos in 2023.
What is the TikTok algorithm?
The For You page is the first thing you see when you open TikTok. And basically, the TikTok algorithm is the system that determines which videos are shown on your For You page.
The algorithm recommends videos based on your interests as a user. So, the videos you see may change over time as you interact with different videos on your For You page. It also adjusts the recommendations according to your changing preference.
How does the TikTok algorithm work?
Various factors affect the TikTok algorithm and once you understand how these factors work, your brand can definitely make it big on the platform.
User interactions
The TikTok algorithm bases recommendations on a user's interactions with the app's content. These interactions include anything that hints at the type of content the user likes or dislikes.
The For You page suggests content based on a variety of factors, including:
Accounts you follow
Liked and shared videos
Videos you've saved as favorites
Creators you've hidden
Videos marked as "Not Interested" by you
Videos that you have flagged as inappropriate
Content that you created on your account
Interactions with organic content and advertisements that have revealed your interests
2. Video information
Video information is about what users look for in the Discover tab. This includes the caption, hashtags, and keywords in your video, which informs the algorithm about the topic of your post.
Remember, the subject matter of your video is important since the app is based on the user's interests. If you need an extra hand, use a hashtag generator that can instantly create relevant hashtags (and even keywords) for you.
3. Settings on your device
TikTok uses device settings to improve results. However, they don't have the same impact as what you see on the platform with user interaction and video information. This is because they're based on one-time setting selections rather than active interactions.
The TikTok algorithm includes the following device and account settings:
Language preference
Country setting
Mobile device type
Categories you're interested in as a new user
4. Audio
When a video includes a popular sound or song, it's more likely to be seen by a wider audience. In fact, a lot of music and audio actually get popular because of TikTok.
5. Engagement
The more views and engagements a TikTok video receives, the more likely it will be shown to larger audiences.
It's also important to be aware of what the TikTok algorithm doesn't show, so you know what to avoid when creating content for your brand. TikTok doesn't recommend these types of videos:
Potentially harmful content
Related: The Ultimate Guide On How To Sell On TikTok
10 TikTok Algorithm Hacks For 2023
TikTok is always changing and adapting based on its user behavior. With every TikTok algorithm update, you need to adapt too. Here are some TikTok algorithm hacks on how to go viral on TikTok:
1. Hook your audience in the first few seconds
Watching a video in its entirety is a strong indicator of interest. Thus, TikTok often prioritizes videos that are easy to digest and cater to people with a short attention span.
As a result, you need to take visual content seriously and capture your audience's attention within the first few seconds. That forms the basis of how to go viral on TikTok.
When a video has an enticing hook, viewers are more inclined to watch the whole video and even repeat it a few times. This tells the TikTok algorithm that people are enjoying the video and that it should be shared with more people.
2. Find your niche or subculture
One of the primary factors influencing the TikTok algorithm is consistent and relevant content. The more videos you share in your niche, the more the TikTok algorithm will recognize your expertise. It will then begin to deliver your content to the appropriate audience.
You'll get a loyal audience only if you generate exceptional content that serves a purpose and adds value.
3. Post consistently
Regularly posting videos keep your audience engaged and increases your brand's visibility in the app, but remember to value quality as well! Having consistent posts wouldn't matter if you put out bad-quality videos.
Here's an extra tip: pay attention to the days and times when your videos have high engagement. Plus, to make posting easier, schedule post your videos with Simplified's Content Calendar. With this, you wouldn't need to worry about missing out on peak hours or forgetting to post your video.
4. Use trending audio
Because the TikTok algorithm favors videos with trending sounds, try to make use of them while they're still popular. When it comes to landing on the For You page, following any trend is a smart bet.
So, how do you determine which music is popular? Tap the + button at the bottom of the TikTok home screen, then tap Sounds on the Record Video page and there you'll find a list of the most popular sounds.
TikTok Analytics can also help you figure out which sounds are popular with your target audience.
5. Try TikTok's new features
TikTok is all about experimenting with new concepts and testing the waters. They will, in fact, reward you for doing so.
Being a "beta" user for new products can help you get greater attention to your content. Especially since TikTok shows what tools and features you're utilizing to edit your video when you upload it. Keep a lookout for new feature releases that you might want to try out to gain more exposure!
Related: TikTok For Business: How To Promote Your Brand On TikTok
6. Create accessible content
Focus on generating accessible content to ensure longer watch times. This can vary depending on the account, but the simplest way to do this is to include on-screen text and captions.
More than that, having accessible content makes it easier for people with disabilities to understand your content. By adding closed captions to your video, hard-of-hearing users can enjoy and watch all your content.
Related: 7 Easy Ways to Create Accessible Graphic Design
7. Write compelling captions
TikTok captions are limited to 150 characters, including hashtags. However, a good caption can do wonders. It tells your viewers why they should watch your video which boosts the TikTok algorithm's engagement.
Use your caption to pique people's interest, or pose a question that will spark a discussion in the comments. And if you're feeling stuck on writing, try out Simplified's AI caption generator! Just complete the prompts and the AI can instantly provide captions for you.
8. Post at the right time
Like any other social media platform, it's essential to know the right times to post content. TikTok's algorithm considers active engagement with your videos to be an important indication of the quality of your content.
You can check your Business or Creator account metrics to see when your audience is most engaged on the app. Here's how you can do so:
Tap the three dots icon at the upper right of the screen from your profile page.
Then, select Business Suite, followed by Analytics.
9. Connect with other users
Keeping track of the comments, Duets, and Stitches on your own videos is necessary. If you're not familiar, a Duet lets your video play in a split screen or green screen next to another user's video, and a Sitch includes five seconds of your video into another's video directly.
Duets, Stitch, and video answers to comments are some unique ways TikTok creators use to communicate with one another.
10. Switch to a TikTok Pro account
There are two types of pro accounts: Creator and Business. Although it isn't necessary, having a Pro account gives you access to analytics to track your videos' performance. This way, you can effectively plan your TikTok marketing strategies even more.
On top of that, with a TikTok Pro account, you can post ads and have access to the app's e-commerce features to directly sell your products on TikTok.
Use The TikTok Algorithm To Your Advantage
Remember, with TikTok, it's all about high-quality videos and maximum engagement. Once you have these two down pat (with the help of the 10 hacks above!), trending on TikTok would be a breeze and your business will bloom more than ever.
Creating TikToks is serious business, so use a tool where you can create content, manage your social media accounts, and collaborate with multiple clients; use Simplified.
With Simplified AI , you can take your TikTok content to the next level with thousands of ready-made video templates, an AI writer for your captions, product descriptions, and keywords, a reliable Content Calendar to plan and schedule your videos, and team collaboration features to manage your team and clients easily. Make your brand shine with high-quality videos and create viral TikToks with free templates from Simplified today.